WE OFFER IRONING SERVICES IN NOTTINGHAM
Ironing Services
All your ironing is professionally pressed on site at our shop at 34 High Road, Chilwell, Nottingham Ng9 4aE. We have industrial Rotundi and Silc ironing stations on site which will achieve a professional finish to all your garments, including delicates such as silks and satins.
All garments are pressed to your specification and either folded or hung on wire hangers, then we either package or cover your garments in protective polythene and label ready for collection or delivery.
We also have a free collection and delivery service available for our ironing service only, this free service is on selected days in certain areas, please check if you qualify by looking at our collection times and days on the list below. There is a minimum of  5.33 kg mixed bag @ £20.00, or £20.00 worth of shirts and blouses @£1.10 each to qualify for a free collection, If you should arrange a collection and send a less amount you will be charged the minimum rate .
Collection and Delivery Times

Monday
Pickup time starts at 6.00pm and ends at 8.30pm
Areas Covered:
Attenborough / Chilwell / Toton / Long Eaton / Sandiacre / Stapleford / Sawley
Ironing Returned
Tuesday between 6.00pm and 8.30pm
Tuesday
Pickup time starts at 6.00pm and ends at 8.30pm
Areas Covered:
Beeston / Beeston Rylands / Lenton Abbey
Ironing Returned
Wednesday between 6.00pm and 8.30pm
Wednesday
Pickup times start at 6.00pm and ends at 8.30pm
Areas Covered:
Bramcote / Wollaton / Lenton / Dunkirk
Ironing Returned
Thursday between 6.00pm and 8.30pm
Thursday
Pickup times starts at 6.00pm and ends at 8.30pm
These pickups are available to all other areas in Nottingham but will incur charges.
Please note any arranged pickup or drop off missed will incur a return charge, if you are not able to meet an arranged time please notify our driver as soon as possible on 07886 704731.
 We have a fixed price mixed bag policy. This does not include shirts, blouses, satins and silks or awkward garments such as gowns and frilly dresses, just put your garments in a labelled bag or we can supply you with a suitable laundry bag which is free for regular customers. All bags are weighed at our shop on government calibrated scales. Prices for a mixed bag of laundry 0 -3kg is £4.00 per kg  3 -15kg is
£3.75 per kg, 15kg or more is £3.50 per kg.
Shirts and blouses (press only) £1.10 each. Awkward garments are quoted for once examined; starting prices are £2.00.
Competitive Pricing
We have a very competitive pricing structure which includes a fully backed insurance policy.
If you require something that isn't on our price list, please give us a call, we are more than happy to discuss your exacting requirements. Please see our full price list below.
For more information about our ironing services please call Kirk on 07886 704731 or email kirk.fsaltd@gmail.com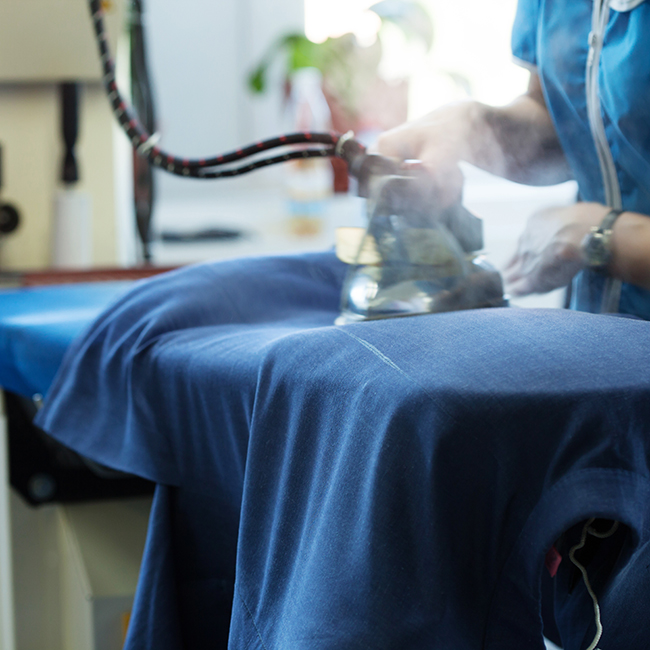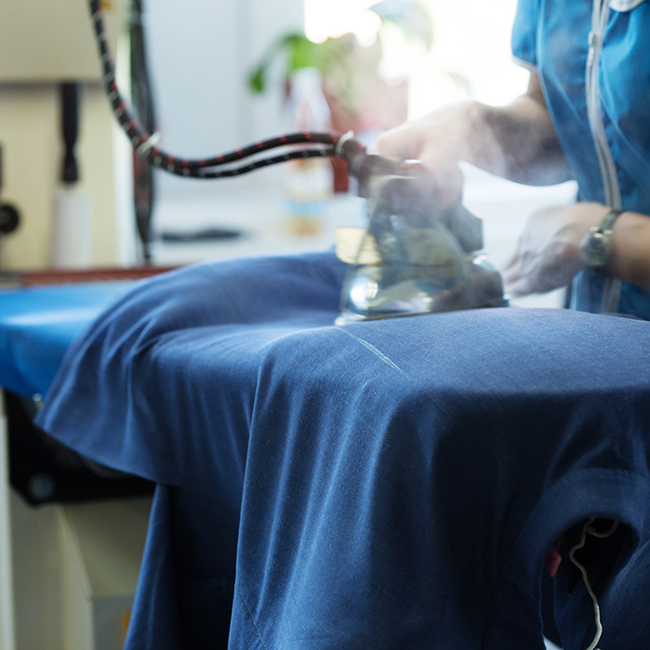 MIXED BAG PER KG

0-3kg

£4.00

3kg-15kg

£3.75

15kg and above

£3.50

NON MIXED QUANTITIES PER KG

Infants and childrens garments

£4.00

Bedding and linen 0-3kg

£4.00

Bedding and linen 3-15kg

£3.75

Bedding and linen 15kg and above

£3.50
ASIAN GARMENTS
MIXED QUANTITIES

0-3kg

£5.00

3kg and above

£4.50

INDIVIDUAL ITEMS

Shirt

£1.10

Blouse

£1.10

Handkerchief

20p

Individual prices on request for awkward garments including: silks, satins, frilly dresses, gowns, pleated skirts
Other Services
Did you know that we also do Cleaning, Laundry, Dry Cleaning, Garment Alterations and Repairs? Visit our other pages for more information on each service.
If you would like more information on any of the services we offer please call us. A member of our team will be more than happy to help you.